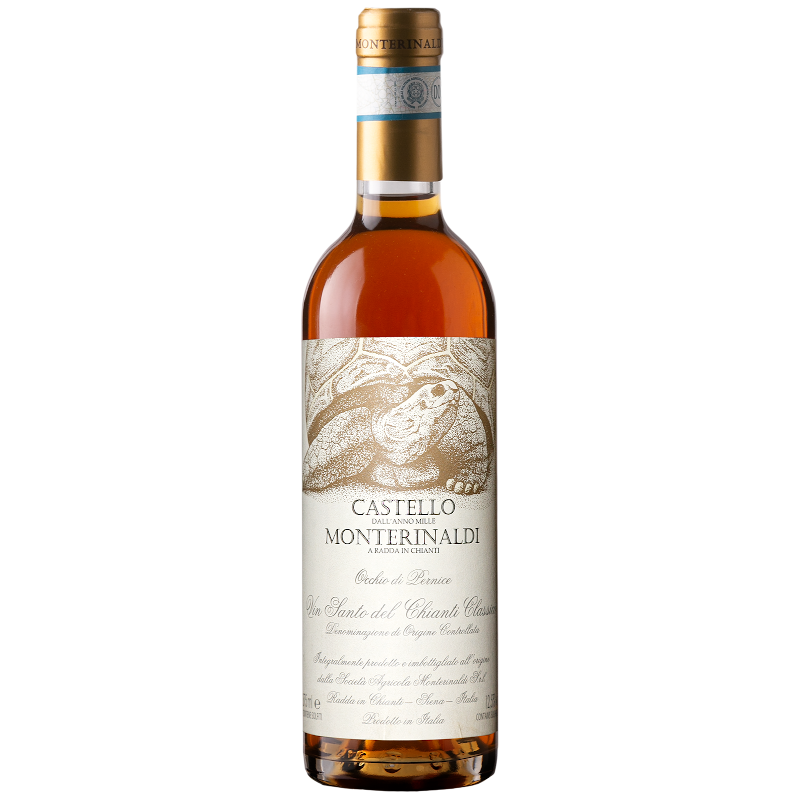  
Vinsanto del Chianti Classico
Vinsanto del Chianti Classico DOC
The ageing time into the wood is quite long (5/6 years at least), which releases this sweet nectar with memories of apricot, dried fruit, nut and honey on the nose. 
Vinsanto is a traditional after dinner wine, and its complexity suggests to avoid pairings with sweet food or cookies. Try instead to pair Vinsanto with Gorgonzola cheese or black chocolate.
Bottle contains 375ml
Product
Vinsanto del Chianti Classico DOC
Varieties
Occhio di Pernice: Sangiovese 80% min.
Traditional: Malvasia, Trebbiano
Harvest
September
Vinification
After the grapes have been carefully picked and selected by hand, with special attention being paid both to their ripeness and health, the bunches are spread out on trellises in the attic. Here the free circulation of air favours drying while protecting the grapes from fungal attacks. When the sugar concentration reaches the right level (after about 3-5 months), the grapes are destemmed and pressed; the must thus obtained is placed in casks ranging in size from 55 to 110 litres, which are likewise stored in the attic, where temperature fluctuations are greatest. The must is left to rest for at least 3 years before being tasted.
Serving Temperature
16/20° C
Aging in cask
Minimum 5 years
 
Description and remarks
Vinsanto is one of the most renowned after-dinner wines esteemed by the old Tuscans. It is obtained by laying out the grapes on reed mats so that, by drying, the sugar concentration increases. When the correct degree of sugar is reached, the grapes are picked, pressed and placed in casks of 55 or 100 liters, dedicated only to this production. The casks are then closed, sealed and usually situated in the attics.
The Vinsanto fermentation is therefore very slow and depends on the changing of the seasons. The Vinsanto can remain closed in the cask for many years and only when the cask is opened, is the result of much patience discovered. It is not unusual that the entire contents of the cask are to be discarded. The reason why Vinsanto il always produced in small quantities can be understood from the above and the longer it is kept in the casks, the more precious it will be.

The "Occhio di Pernice" is produced using at least 50% of Sangiovese grapes, so its color tends to pink.
Customers who bought this product also bought: